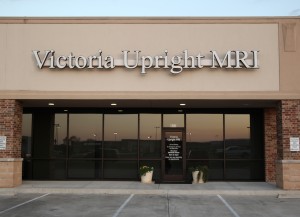 At Victoria Upright MRI, you can expect the absolute best when it comes to comfort, convenience and low-cost MRI procedures.
Comfort: What makes us different from other MRI facilities in the area is that we offer a non-traditional method of scanning that does not require a patient to enter a closed in or "tunnel" MRI machine.
Convenience: The results of the exam will be sent to your referring physician after the images are read by the radiologist. Many scans are performed while the patient is seated watching a 42" TV.
Low cost: Without the high overhead of other facilities to pay for, Victoria Upright MRI can deliver a low-cost solution for a comfortable and convenient MRI scan.
We are located at:
8902 N. Navarro
Suite 400
Victoria, Texas 77904
Phone: 361-570-1900
Phone: 866-469-1900
Fax: 361-485-0063